We paddled the South Macmillan river in the Yukon Province of Canada in the summer of 2004. We started at the "VW put in " and paddled via the Pelly river and Yukon as far as Dawson. The trip is nearly 850 km long.
This is my personal diary of the trip.
Monday 9th august – Camp 1 – VW put-in – 0 km
Early start at . Still v. little sleep after our long journey to Whitehorse. Jerry has to drive us up to the "VW" start along the Old Canol Road. Final tank stop and shop for matches and zip lock bags in general store in Ross River – then ferry across the Pelly. An endless drive brings us in the vicinity of the "alternative put-in" about 160km from the ferry – but we cannot find it so continue on to the South Macmillan Bridge 1.
The river looks really inviting apart from the fact that we are dead beat.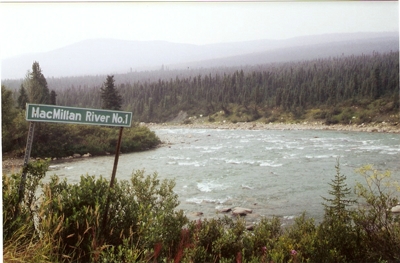 Would be good fun to paddle with an empty maneuverable boat but due to lack of sleep the idea of launching a fully laden boat into a sprightly grade II/III river does not appeal. Decide to drive back and make a second attempt at finding the put in.
After one false start, relieved to find the trail and the old VW bus hidden away in tall grass. Jerry unloads everything very quickly and off he goes leaving us at the top of a muddy bank. The bugs attack right away. The smoke in the area hides the backdrop of mountains but there is an inviting scene of a pretty river flowing around an island just as described in the guide book and other trip reports. We quickly load the boat and traverse across to the island. Finally after 3 days of traveling we enjoy the peacefulness and the serenity of our surroundings but fatigue soon takes over. Quick dinner on Coleman stove and at 19.30 we lie in the tent sweating it out with just a sheet to cover us. Does not take long to fall into a deep sleep.
Tuesday aug 10 – Day 2 – river day 1 – Camp 2 at beach above first portage
Sunny 26°C - 38 km
Geoff wakes me after a good nights sleep and against all rules of the wilderness brings me breakfast in bed. We leisurely get up, pack everything and are away at 09.30. It is an extremely pretty little river but we cannot aimlessly drift. To those off-guard sweepers will give one a quick wake-up. After 10 km a tree blocks the whole river but a short walk and tug gets us round the obstacle. A good current helps without much effort to bring us in reach of the first rapid. Decide to camp and portage in the morning. At 18.30 temperature is 24°C. Main chute is river right. Possible line left could be considered but awkward as trees block the way for walking with the ropes. Portage path is excellent. Evening of chores and repairs.
Wildlife count for today – 2 eagles, 1 seagull, and a beaver slap tail – beaver himself not seen.
Wednesday aug 11 – PORTAGES – river day 2 – Camp 3 – forest camp at end portage trail – bit miserable weather – some rain
Cold night which means we can enjoy breakfast without being disturbed by mosquito's/ A mixed weather day, sun, rain showers and a thunderstorm threatening close by. First portage went quickly as we started from our campsite.
The small rapid following the portage was fun. Not too far the next rapid came into sight – a large drop – ledge with run out to a second ledge. Scouted and choose to portage. First ledge would always need portaging – second ledge possible - certainly if you have backup of other paddlers.
Third rapid after scouting looked doable and both agreed to paddle. Gave us a chance to finally use our helmets. Everything went perfectly – started to pour with rain as we set of but did not notice the rain while busy with steering down the waves – nice technical rapid.
Left, then right into bend and then left again for the run out.
Final portage is the backbreaker. Nice easy tempting start but the cliffs get high so you have to take out way above the difficult part. 15 minute walk without luggage and 25 mins a trip with packs. 5 donkey loads (Geoff walked 3 times) and the boat. – Pretty exhausting. Nice forest site at the end of the trail high above the water. Ate dinner looking at river canyon and the fantastic mountain backdrop.
Thursday august 12 – day 4 – Camp in forest opposite old burn out
River day 3 FUN DAY
Long nights sleep after the strenuous portage. Fine sunny morning. Back still aches from yesterday. About ½ km downstream the next rapid can be viewed walking down a path from the camp – no problem – looks fun. Slow start and on the water by 11.15. Before lunch lots of grade II fun rapids. Occasionally need to pull over into an eddy to scout.
Pull in river left above the one really big rapid. My first reaction is to line the first drop but Geoff persuades me to shoot on the big green tongues where we will hit one wave. Waves are as big as the "GAT v.d. Durance" but surprisingly we ship less water than in all the previous rapids of the morning. Stop for lunch at head of an island – very few picnic sports as the river is lined with boulders and runs along at a cracking pace in a kind of canal feature with high walls. After lunch we continue the boulder dodge in fast moving water until we reach a good high water forest camp site on river left. Does not appear to have been used for some time (the flat camping spots are all thickly covered in a carpet of pine cones).
Sunny afternoon used for solar showering, washing clothes and baking a birthday cake.
Recipe
Soak sultanas, cranberries and dried bananas in hot water.
10 tblsp flower, 1 tbsp egg powder, 1 tbsp milk poser, 1 ½ tbsp olive oil, 2 tbsp sugar, 1 pack backing power.
20 mins one side. 20 mins second side. Bake over slow fire in oiled frying pan with 2 layers tin foil as cover.
Beautiful evening. At 19.45 it is still 23°C! Observed what may have been a salmon run today. White tail of water swished and zoomed upstream like a rocket. Fabulous mountain scenery today – highlight was view of the cirque.
Friday aug 13 – Day 5 – river day 4 – Camp at beach after fright with bear
Sunny day - no clouds – no wind
Early morning temp. is still 8°C but soon warmed up and at 19.00 reached 19°C. River is small and pretty – there are no longer any rapids but a swift flowing current, islands and many log piles. QUIET. We spent much time drifting and enjoying the serenity and the quietness of our surroundings. About 16.00 we land at potential campsite only to wake up a big brown bear (of was he a grizzly). Retreat gracefully walking backwards to the boat and traverse to the other side of the river. Watch him for a while and then continue a further 4km our hearts beating slightly faster than normal. Chosen campsite is a good beach site with small pebbles and gravels as ground to pitch the tent on. Four large logs make for a handy sitting and kitchen area.
Saturday aug 14 – day 6 river day 5 – Camp on beach with view of mountains and moose territory
FAIR weather and a light wind all day. Views are not to good as lots of smoke hides away the mountains. Lots of smoldering forest fires on the hills surrounding the river. Got out to investigate one still burning next to the river. – Care to walk on the burnt forest floor of charcoal and cinders.
River was fun today – still small and pretty. A small canyon with a rapid made for an interesting day. Good grade II. Main current flowed straight onto rock face so shot river right and made a neat breakout to avoid the wall.
Next drop viewed from an eddy above – straight line just R of center.
This evening have a campsite with view of Selwyn Mountain. Tried some navigation from the map but got confused with the deviation. Overshot the ideal camping place and Geoff lined the boat professionally up the beach.
6°C at and 20°C at 16.00
Sunday august 15 – day 7 – river day 6 EAGLES and BEARS – camp on huge barren beach
Bear seen alongside river.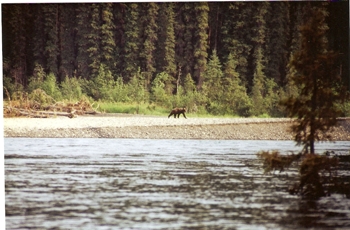 Rain all night. Hop out of tent and set up tarp for breakfast. No mountain views this morning – all is grey – temp is warm – did not need to close the sleeping bag all night. It cleared up before departure. Morning is grey (probably smoke). Sun tries to break thru. It is the day of the eagle. They are everywhere perched on the top of trees and occasionally one chooses to fly down with river with us, stopping in a tree for us to catch up, and then flying on ahead. Brown-spotted, black and white and bald eagles all on view. Finally at lunchtime the sun breaks thru and deliver a sunny afternoon and evening. Late pm round 17.00 spot large black bear ambling along the river. He jumps over a woodpile and then disappears into the forest unaware of the watching canoeists. After a marathon stint of 52km set up camp on a wide open and barren beach. Warm evening and the time passes quickly. The river is still small and pretty. There are no longer burns but wooded hills and occasionally a high walled buff of sandstone or shale.
Monday aug 16 – day 8 – river day 7
DEER, BEAVERS, ARMSTRONG LANDING
SUNNY 41 KM
Our last day on the South Mac. Beautiful morning at 7 and than a 8 a cold mist sombers and cools but after 10 a scorcher. Blue skies and we are out of the burn areas. Still smoke in the air which makes for hazy views of the mountains which surround this river. Investigate Armstrong landing – now abandoned. Long tall weeds nearly have taken over all the paths – a way of life is disappearing. Various buildings in differing states of repair – but including a workshop, a shower and a modern sauna – presumably installed by the last inhabitants who abandoned the place in 2002.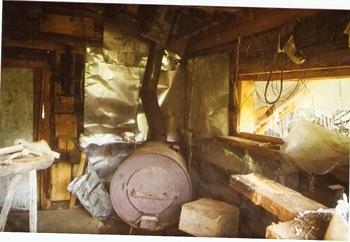 The current in the river is not as slow as the guide book suggests. Have to be active in the cutaways as the river is littered with logs and sweepers and the main current always takes you into the logs….
After 41 km have had enough for the day and settle at a camp close to the river with beavers swimming on the opposite side. A deer also swims across the river for the evening entertainment.
Tuesday aug 17 – day 9 – river day 8 – BEAR CAMP
MOOSE – mother and cub
Black bear
Geese
Beavers
Hidden Lake
SUNNY
Afternoon smoke
51km
Beautiful red sunset
The river is becoming staid – in fact the current seems to have stopped. There are less cutaways and long, long meanders.
Today was livened up by spotting moose with cub – very watchful – we drift by and they continue to munch the grass.
After lunch, black bear seen next to forest. Suddenly he starts to run – fast – but fortunately back into the forest and not towards us.
About we paddle into hidden lake – just like the Lion, the Witch and the Wardrobe – you paddle thru a small opening into another world – a world of a tranquil lake with grass lining the banks. Camp tonight is a short gravel beach opposite a steep sand wall and with forest close behind.
Wednesday august 18th – day 10 – river day 9 – no animals. Lost tent pegs
Today is a bum day. We both feel sleepy and get up late. Decide to change the tent packing routine and place dark green peg bag on a log with leaves.
15 km down river realize the stupidity – no tent pegs! Check in tarp bag and count the remaining pegs – just enough to put up the tent but not the tarp. Select a few fresh logs from fallen trees in the cutaway bends so that Geoff can try and make some sand pegs during the evening. Current in the river seems to have stopped – and paddling is painfully slow with nonchalant scenery. Manage a poor 41 KM today.
Thursday aug 19 – day 11 – river day 10
BEAR IN CAMP
Lots of wildlife – elk, caribou, moose + 2 cubs, beavers, eagles
Clatter, clatter, bang, bang. I wake with a start and wake up bear. It sounds like a bear is by the camp and containers. And suddenly it is quiet. Was it a dream. I am still sleepy.
Pull on our shoes and peer out of the tent. Everything looks OK. Maybe I dreamed? We walk down to the boat and then realize – life jackets torn to shreds and bag with hardware destroyed! No bear to be seen but the evidence is two paw prints in the mud. Evacuate pronto. Takes an hour to take down the tent, pack up and go. Away at 08.30 – paddle ½ hr and then stop to have breakfast, wash and calm our nerves. River is sluggish for the rest of the day. Brightens up in the afternoon. Lots of wildlife as compensation, elk, caribou, moose and 2 cubs, beavers and eagles. Lots of discussion in the evening about how to arrange camp – do we want to leave everything far from the tent at the fate of a bear of have some possessions close at hand. Finally decide to place canoe next to the tent – without a boat we would be stuck. Slept well. No disturbances.
Friday aug 20 day 12 – river day 11
So where is the wildlife today? The moose and 2 cubs we had seen yesterday swim across the river before we depart. Really hot afternoon. First real rain and threatening thunder in the afternoon. Stop at fish camp for washing, repairs and coffee. Wonderful location. Tables and a bench – obviously has not been used for a long time.
Lunch stop at Kalzas river. Indian graves at top of hill but due to the mass of fresh bear prints in the sand at the start of the narrow enclosed forest path decide to forego the visit.
Thunderstorm breaks shortly after but it cleared the air so that we could finally see the mountains which have been absent from vision for the last few days.
It was a long 43 km today and the current was practically non-existent.
Saturday aug 21 – day 13 – river day 12
BEAR SUNNING ON BEACH
So today we paddled our last 22km on the Macmillan. Highlight of the morning is a large black bear sunning himself on a beach and he watches as we glide pass and thereafter he slowly trots into the wood.
Around lunchtime the muddy water of the Mac (caused by a landslide we passed earlier in the day) merge with the clear green water of the Pelly. Enjoy lunch at the mouth of the Pelly on a wide shingle beach. Current is faster than on the Mac but disappointingly slow – really not fast enough. River valley in contrast to the Mac now looks too neat and tidy – no log jams and mainly aspens growing along the banks mingled with small pine trees. – looks as if river has been logged in the past. Relaxing day, stopping at 16.00 on a large sandy beach (used previously by groups) with view of high sand walls.
Sunday aug 22 – day 14 – river day 13
GRANITE CANYON – PELLY CROSSING
Another slightly colder and peaceful night. Leisurely start at 10 hyped up for Granite canyon. Scenery good but not stunning. Rapids easier than expected – basically a small splash and occasional rock to dodge. Pull over at sandy camp site river left where cross is mounted and a pile of sand dug out in the form of a grave - no explanation. Make all photo opportunities possible of Needle Rock, before, on and after. Coffee stop at Needle Rock Creek – really lovely spot with a tumbling fresh water creek joining the main river.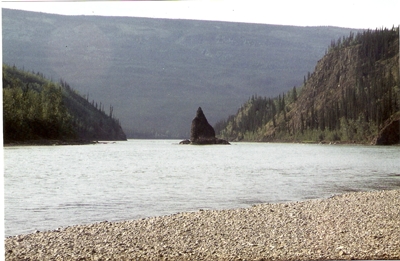 Stop again a bit further on to look at ruins of a dilapidated and abandoned farm. Floating lunch served by Geoff. Intermittent spates of strong wind against us this afternoon. Pull into boat dock (grand word) at Pelly crossing around 17.00 on Sunday afternoon. Geoff goes off in search of a general store and telephone to report in. Returns an hour later with 2 apples (the only 2 available) – delicious – 2 oranges – 1 cucumber – 1 loaf stale bread.
Geoff comments on the sad state of this small First Nation community – log homes, caravans and lots filled with rusty cars. Paddle down to the road bridge to discover the campground and the store where Geoff has just walked to are river Left just under the bridge. There was no need to walk. The campground pitches are far from the water so we camp on the river bank of the campground. There is no water available on the campground but a lot of money has been invested by the Selkirk First Nation in toilets, camp kitchens with stoves, and abundant supplies of free wood. There is no charge – we are obviously guests as stated in their charter to be hospitable to strangers. Tonight we are in the company of 2 motor homes – the site is not busy.
Monday august 23 – day 15 – river day 14
Pelly crossing – Pelly 45km
Coldest night so far last night. Thick mist on the river obscuring the bridge. It quickly warms up and depart at 10 dressed in shorts and T-shirt – lazy day – we manage the 45 km without much effort – finally a bit of current. Scenery is also much better than expected. Pass by Gull Rock without realizing it and stop at creek below this feature. The creek is freezing cold. Float by Bradons Canyon and lunch at yet another scenic creek. Stop at 16 opposite an imposing large grass hill. Hope to spot Dall sheep to no avail. Evening spent baking, washing and lazing around.
Tuesday august 24 – day 16 – river day 15
Fort Selkirk
Roast moosehead
Revolving smoked salmon
Cold this morning. 6º and NW wind – now wearing 3 layers of fleece. Strange site while passing the only farm on the Pelly is a parking lot full of flash cars. We think that there must be a motor boat service to Fort Selkirk – but no – this is a day out for officials from Yukon Tourist Board and Selkirk First Nation discussing ways that SFN could run and promote the Yukon Tourist Industry (now in hands of Canadians and Europeans). We are entertained by an Indian woman preparing salmon for smoking and her brother roasting a moose head on the fire.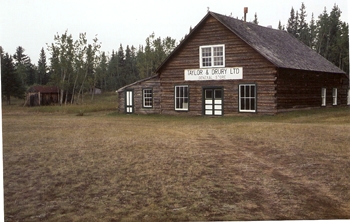 After leaving Fort Selkirk spot a bear fishing about 6km short of stop for the night. He takes his paw and laps up fish. While making diner a Japancese girl arrives paddling solo and talking about a bear close by. She is very frightened and we invite her to put up tent in our camp. An hour later 2 locals motor by and point out that there is a bear at the head of the island where we are camped. Take normal precautions and then retire to tent for a good nights sleep.
Wednesday august 25 – day 17 – river day 16
Bear + 2 cubs
2 foxes
1 Wolverine
Visits to Selwyn and Isaac Creek (bear scat on campsite)
Blue skies and cold wind.
Up early and leave before Miss Tokyo. She appears to be able to solo as quickly as we can tandem as she catches us up later in the day. Spot mother bear and 2 cubs shortly after start on RH shore. Later 2 foxes. Stopped shortly at Selwyn – remains of an old hut. Intended to camp at Isaac creek which boasts a huge campsite up in the wood and good view over the river. After having carried and humped everything up to the site, start to put up tent and Geoff goes on a foray for wood. He finds fresh bear scat just a few meters from where I am pitching the tent. Dismantle, pack in and plod on. Brittania Creek is the next potential camp site but it is awful – modern 40/45 year old industrial rubbish and signs of mining – deep recent tire tracks of heavy machines. About 19.45 choose a standard beach – no fire tonight – it is too late – cook on the stove.
Thursday aug 26 – Day 18 - River day 17
Large moose
3 Germans
1 Japanese
Visit Coffee Creek
Camp Los Angeles Creek
Morning v.v. cold. Nice afternoon and fine evening – autumn is definitely here. Slept in till 08.30. Do want to paddle to far to day in order to remain above the White River confluence. Very very cold when we start to paddle – put on layers of thermal underwear. Visited Coffee Creek but there were so many bear prints we decided to go and drink coffee elsewhere. Got overtaken by the Germans and then overtook them and Miss Tokyo. Camped around 17.30 opposite Los Angeles Creek. Fine evening with time for personal washing, baking and hair washing. Very beautiful setting.
Friday august 27 – Day 19 – river day 18
No wild life!
WHITE RIVER
Nothing special about today. Saw the Germans again this morning but no longer our Japanese solo super woman. Cold start (6º C) but without wind did not feel too bad. Had coffee before confluence with Whit and filled up on clear water. Last time when we paddled a trip down the Big Salmon and Yukon we choose the eddy line. This time avoided the slot completely. The muddy sludgy water merged with clear Yukon water and the river is now a murky grey sludge. Not quite as high water level as our previous trip so easier to find a beach. Camped now on a long beach 3 meters above water level. Shrubs are taking over but very sandy and muddy ground. Fortunately it is dry. Fresh breeze died down in the evening. Sunny afternoon and evening.
Saturday august 28 – day 20 – river day 19
No wild life.
60 mile creek
Single kayaker (Klepper)
Getting lazy and packing ourselves to Dawson. Up at 9 and away at 10.45
Lunch at 60 mile creek – lovely spot and clear brown water to fill up the water container. Yukon wild large open lonely landscape. Find suitable clearing at 17.00 for camp but scout reveals deep fresh bear prints in the mud covered with a few autumn leaves. How fresh are the prints? Think about 1 day and decide to depart. Better site found 30 mins later. Good beach, pebble and gravel site obviously camped before. As it is our last night, make a good cooking campfire.
Sunday aug 29 – day 21 – river day 20
FOG
River mist
Agreed to get up early - still 45km to Dawson but this is counterproductive. There is a thick pea soup mist over the river and we cannot see the island 20 meters away. Ready to paddle at 09.30 – still pea soup and decide to make our way tentatively over to the LH bank and follow the bank. As we paddle mist slowly rises, Coffee at 11.15 still in mist but lunch at 13.00 in the sun. Last lunch with Dawson still out of site. ….and then the last 15 km to Dawson.
Land at dock – call in at visitors center and helpful lady arranges us a room for the night. 10 mins later Heidi from the White Ram Manor (painted pink) arrives in her truck and whisks away all our luggage. Final hump to the Bunkhouse with the boat and our river trip is over for this year.
Last update: sept. 20 2007